POWX480
Welding machine 160a
POWX480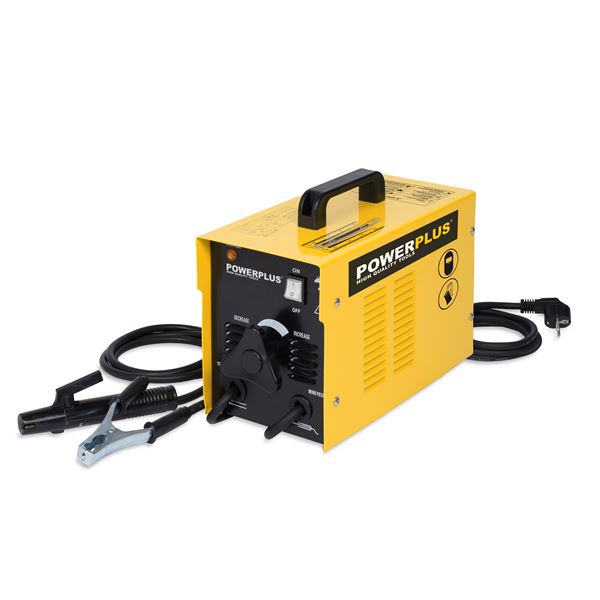 Description
This welding machine is designed to weld electrodes from 2mm to 4mm. Depending on the size of the electrodes, you can regulate the current from 55A to 160A. A scale clearly marks the chosen setting and an overheat indicator will fully protect the device and secure your safety. This reliable welding machine is easy to set up and can therefore also be operated by occasional welders. The POWX480 is delivered with a steel brush/welding hammer and a welding mask.
Technical specifications
Box content

Manual included
Steel Brush included
Welding Hammer included
Protective welding mask included
Electrode holder included
Ground clamp included
Tool

Rated Voltage AC max (Un)

230 V

Rated frequency (fn) max

50 Hz

Power cable length

3 m

Thermal stop
Low weight
Welding current display
Power factor

0,6 cos?

Soft grip
Power indicator
Carrying handle
Rubber power cable
General warranty

36 MO.
Package
| Package | Qty | Length | Width | Height | Weight | Net weight |
| --- | --- | --- | --- | --- | --- | --- |
| IN | 1 | 47 cm | 22 cm | 29.5 cm | 17.5 kg | 17.5 kg |
| OUT | 1 | 47 cm | 22 cm | 29.5 cm | 17.5 kg | 17.5 kg |
| ST | 1 | 47 cm | 22 cm | 29.5 cm | 17.5 kg | 17.5 kg |
| PAL | 35 | 0 cm | 0 cm | 0 cm | 612.5 kg | 0 kg |
---