POWEG9013
Leaf blower/vacuum 3300W
POWEG9013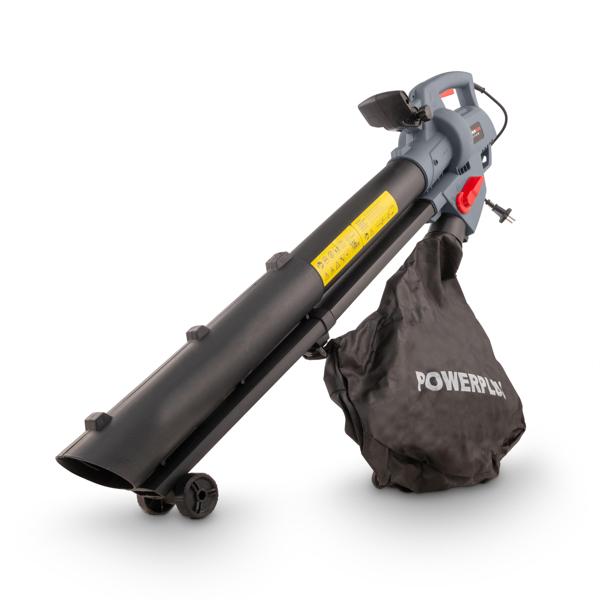 Description
Do you need to remove fallen leaves from your garden or driveway? With a powerful 3 300 W motor and a maximum airspeed of 270 km/h, this Powerplus leaf blower/vacuum is the ideal tool for removing any unwanted fallen foliage.
The suction mode enables you to vacuum leaves and other garden waste. The built-in shredder reduces all waste 10:1, before it is caught in the extra large 45 litre collection bag. This enables you to work even longer. When full, it detaches quickly and easily.
The leaf blower's round and wide nose with double wheel support enables you to move around easily, while catching most of the weight. Thanks to the shoulder strap and the adjustable auxiliary handle, working comfortably and ergonomically is guaranteed.
Technical specifications
Box content

Manual included
Amount of wheels
2 #
Number of Screwdrivers included
0 #
Collect box-bag included
Tool

Shredding ratio

10:1

Rated Voltage AC min (Un)

230 V

Rated frequency (fn) max

50 Hz

Rated power (Pn) max

3300 W

Bag-box volume

45 L

Power cable length

0.35 m

Max. air speed

270 km/h

Max. air volume

10 m³/min

Safety contact
Electronic speed control
Metal blade
Control handle
Safety button
Overload protection
Storage type

n/a

Soft grip
Swivel ball cable restraint
Shredding function
Blowing function
Vacuuming function
Raking function
Quick release collect box / bag
Double wheel support
Patio nose
Round nose
Built in rake
Easy cleaning access
Soft start motor
Adjustable speed
Power indicator
Rubber power cable
Rotation speed (n) max

14000 min-1

General warranty

24 MO.
Package
| Package | Qty | Length | Width | Height | Weight | Net weight |
| --- | --- | --- | --- | --- | --- | --- |
| IN | 1 | 48 cm | 16.5 cm | 32.5 cm | 3.34 kg | 3.34 kg |
| OUT | 1 | 48 cm | 16.5 cm | 32.5 cm | 3.34 kg | 3.34 kg |
| ST | 1 | 48 cm | 16.5 cm | 32.5 cm | 3.34 kg | 3.34 kg |
| PAL | 40 | 0 cm | 0 cm | 0 cm | 133.6 kg | 0 kg |
---