POWDP25260
Circular saw brushless 40V Ø 190mm - excl. battery and charger - 1 acc.
POWDP25260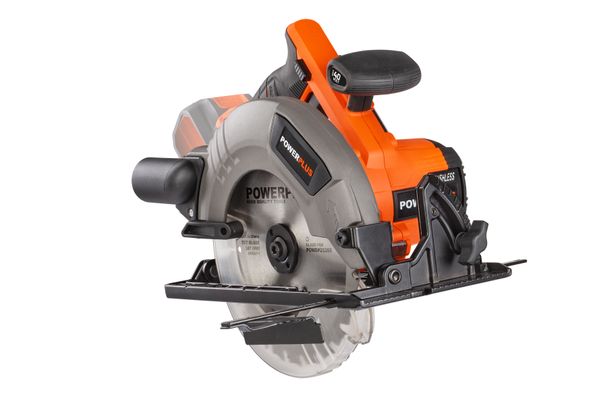 Brand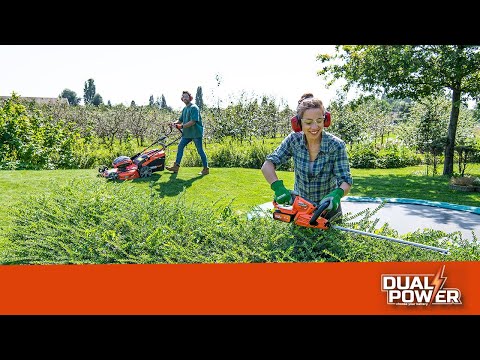 Description
This powerful 40 V circular saw from Powerplus is suitable for making straight and mitre cuts. The cordless circular saw's blade can be tilted up to 45°, making it possible to make bevel cuts in wooden slats and planks. The side guide guarantees precise straight cuts.
The circular saw is equipped with a durable brushless motor. It requires less maintenance and has an extra-long life. It also extends the battery run time up to 50%.
The saw blade has 24 teeth and a diameter of 190 mm. This results in a maximum cutting depth of 63 mm for straight cuts and 41 mm for 45° bevel cuts. The saw blade reaches a maximum rotation speed of 3 800 min-1.
Thanks to the spindle lock, the saw blades are easy and safe to switch. It prevents the spindle from rotating, so that the saw blade cannot move unexpectedly. To prevent injuries or accidents, the saw blade is almost completely protected by a safety guard.
The cordless saw's soft start motor provides the necessary stability and control, as it starts up gradually. A clear view of the workpiece is guaranteed thanks to the built-in work light and vacuum cleaner connection.
Separate battery and charger
The battery and charger are not included. They are sold separately and are compatible with the whole Dual Power range.
Which Dual Power battery is compatible?
This 40 V circular saw is only compatible with the 2x20 V Dual Power batteries.
What is included?
1x circular saw
1x hex key
1x saw blade - wood - 24T (mounted)
1x side guide
1x manual
Technical specifications
Box content

Manual included
Chargers - charge cable included
Dust Bag/box included
Dust adapter for vacuum cleaner included
Side guide included
Number of Saw blades for aluminium included
0
Number of Saw blades multi-use included
0
Mitre base included
Not applicable
Number of Spanner tools included
0 #
Number of Wrench(es) included
0 #
Number of Hex keys included
1 #
Tool

Rated Voltage DC (Un) max

40 V

Vacuum adaptor inner diameter

35.0 mm

Sound Power Level (LwA)

104 dB(A)

Batteries necessary (amount)

1

Switch dustproof
Electronic speed control
Adjustable Base
Safety button
Overload protection
Bore size

20 mm

Adjustable angle
Spindle lock
number of teeth/blades

24

Disc diameter

190 mm

Storage type

n/a

Soft grip
Safety guard
Battery level indicator

Not applicable

Dust extraction airflow
Targeting laser
Soft start motor
Quick release - toolless disassembly
Power indicator
Rotation speed (n) min

3800 min-1

Rotation speed (n) max

3800 min-1

Cutting depth steel

0 mm

Cutting depth wood

63 mm

Rotation speed (n) 2 max

3800 min-1

Rotation speed (n) 2 min

3800 min-1

General warranty

36 MO.
Package
| Package | Qty | Length | Width | Height | Weight | Net weight |
| --- | --- | --- | --- | --- | --- | --- |
| IN | 1 | 45.5 cm | 31 cm | 36 cm | 4.3 kg | 9.1 kg |
| ST | 1 | 33.5 cm | 22 cm | 29 cm | 4.3 kg | 4.3 kg |
| OUT | 2 | 45.5 cm | 31 cm | 36 cm | 9.1 kg | 9.1 kg |
| PAL | 60 | 0 cm | 0 cm | 0 cm | 258 kg | 0 kg |
---