POWDP25200
Circular saw 20V Ø 165mm - excl. battery and charger - 1 acc.
POWDP25200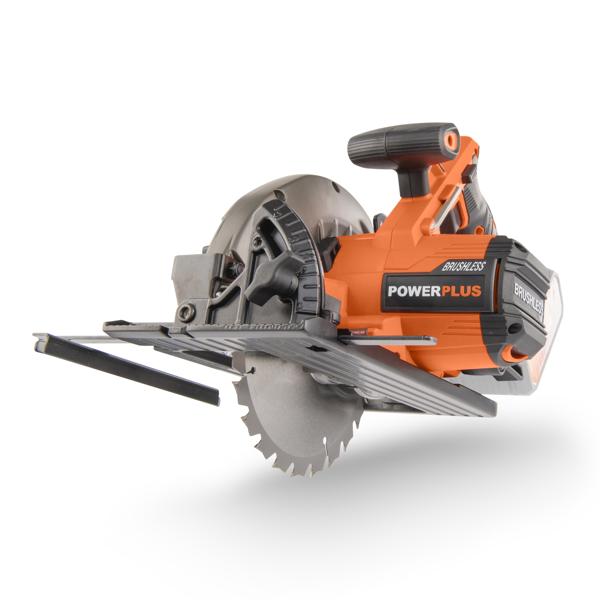 Description
This cordless 20 V circular saw is perfect for all those large-scale sawing projects. It's suitable for both straight and mitred cuts. Its 45° tiltable saw blade makes bevel cuts in wooden planks and for baseboards possible as well.
What can you do with this circular saw?
Use this circular saw to effortlessly cut through wood. It's mainly meant to make long, straight cuts both in large planks and thicker boards of up to 55 mm. Bevel cuts of up to 38 mm are also possible.
The battery and charger are not included. They are sold separately and are compatible with the entire Dual Power range.
Its strong points:
Side guide: Use the side guide to cut flush with the edge of your workpiece.
Adjustable base: Without any extra tools, the adjustable base can be set at an angle to allow for easy mitred cuts.
Soft start: The circular saw is equipped with a soft start system, which causes the motor to gradually get up to speed. This is safer and provides more control.
Spindle lock: The spindle lock temporarily blocks the chuck, so switching between accessories is quick and easy.
Safety guard: The safety guard keeps your hands at a safe distance from the saw blade.
Overload protection: The overload protection prevents the electric motor from overheating and becoming overloaded. It automatically shuts off the motor when there's a steep increase in temperature.
Vacuum adaptor: You can connect a vacuum cleaner to the tool to catch any dust. That way, you can keep your workplace clean, you won't breathe in any of the dust and you'll always have a clear view.
Freedom of movement: The circular saw operates on an 18 V battery, so it can be used anywhere. It offers full mobility for each project.
Work light: The practical work light provides a clear view of your workpiece at all times.
Its key technical specifications:
Rated power: 20 V
Rotational speed: 4000 min-1
Disc diameter: 165 mm
Blade thickness: 1,40 mm
Max. cutting capacity 90°: 55 mm
Max. cutting capacity 45°: 38 mm
What is included?
1x circular saw
1x hex key
1x saw blade - wood - 24T (mounted)
1x side guide
1x manual
Technical specifications
Box content

Manual included
Chargers - charge cable included
Dust Bag/box included
Dust adapter for vacuum cleaner included
Side guide included
Number of Saw blades for aluminium included
0
Number of Saw blades multi-use included
0
Mitre base included
Not applicable
Number of Spanner tools included
0 #
Number of Wrench(es) included
0 #
Number of Hex keys included
1 #
Tool

Rated Voltage DC (Un) max

20 V

Vacuum adaptor inner diameter

32.0 mm

Sound Power Level (LwA)

104 dB(A)

Batteries necessary (amount)

1

Switch dustproof
Electronic speed control
Adjustable Base
Safety button
Overload protection
Bore size

20 mm

Adjustable angle
Spindle lock
number of teeth/blades

24

Disc diameter

165 mm

Tooth spacing/pitch

2 mm

Teeth total amount

24

Kerf

2.00 mm

Storage type

n/a

Soft grip
Safety guard
Battery level indicator

Not applicable

Dust extraction airflow
Worklight
Targeting laser
Soft start motor
Quick release - toolless disassembly
Power indicator
Blade thickness

1,40 mm

Rotation speed (n) min

4000 min-1

Rotation speed (n) max

4000 min-1

Cutting depth steel

0 mm

Cutting depth wood

55 mm

Rotation speed (n) 2 max

4000 min-1

Rotation speed (n) 2 min

4000 min-1

General warranty

36 MO.
Package
| Package | Qty | Length | Width | Height | Weight | Net weight |
| --- | --- | --- | --- | --- | --- | --- |
| IN | 1 | 28 cm | 22 cm | 28 cm | 3.32 kg | 3.32 kg |
| ST | 1 | 28 cm | 22 cm | 28 cm | 3.32 kg | 3.32 kg |
| OUT | 4 | 47 cm | 30 cm | 58 cm | 13.94 kg | 13.94 kg |
| PAL | 60 | 0 cm | 0 cm | 0 cm | 199.2 kg | 0 kg |
---