KRT001004
Tile cutter 0-14mm length 900mm
KRT001004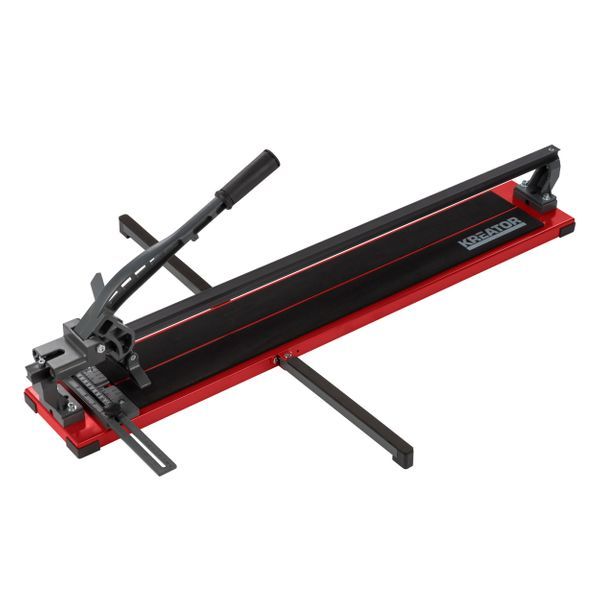 Description
When tiling your own floors or walls, some tiles will have to be cut to size. Make your life easier by using this Kreator tile cutter.
What can you do with this tile cutter?
Use this tile cutter to cut through ceramic and porcelain tiles of up to 900 mm in length and 14 mm thick.
Its strong points:
Stable: The tile cutter with ball bearings has a sturdy handle and is very stable, so you don't have to worry about scratching your floors.
Angled cutting: The cutter has been fitted with an adjustable side guide that allows you to cut your tiles at an angle as well.
Easy to use: Its wide base helps the tile to break off with ease and the ball bearings ensure smooth cuts every time.
Tips & Tricks:
First time's the charm. Let the first time you score a tile be the last. If you score over the same line several times, the cut will not be as clean.
Always wear safety goggles and gloves when cutting tiles. Small, sharp pieces of tile could come loose.
If, after a long time, the cutting wheel needs to be replaced, the KRT001004A replacement wheel with ball bearings can be purchased separately.
Its key technical specifications:
Max. cutting length: 900 mm
Max. cutting thickness: 14 mm
Cutting wheel dimensions: Ø22 x Ø6 x 6 mm
Base width: 175 mm
Base thickness: 1,8 mm
What is included?
1x KRT001004 tile cutter
Technical specifications
Box content

Manual included
Tool

Cutting Width

900 mm

Quick release - toolless disassembly
Package
| Package | Qty | Length | Width | Height | Weight | Net weight |
| --- | --- | --- | --- | --- | --- | --- |
| IN | 1 | 0 cm | 0 cm | 0 cm | 0 kg | 0 kg |
| OUT | 1 | 0 cm | 0 cm | 0 cm | 0 kg | 0 kg |
| PAL | 1 | 0 cm | 0 cm | 0 cm | 0 kg | 0 kg |
| ST | 1 | 0 cm | 0 cm | 0 cm | 0 kg | 0 kg |
---