About trimming hedges and hedge trimmers
Do you have lots of hedges in your garden? Or only a small one as a boundary with the neighbours? They all have to be trimmed anyhow. But which materials do you use and how do you generate the best effects for your hedge.
Why trimming?
To obtain and keep a sound, fine-looking full hedge, you will have to prune it regularly. So it will grow well and you can get a compact hedge with sturdy branches.
Why choose a Powerplus hedge trimmer?
Price - quality for each intensity
To maintain your own garden, you like to choose a device that's not too expensive, but that offers the quality you search for. That's where Powerplus fits exactly in the picture. We offer garden tools for occasional use (grey E line), frequent use (yellow X line and orange Dual Power line), as well as for professional use (green Pro Power line) - all for the right price. It's up to you to decide which line suits you best.
All kinds of hedge trimmers
Powerplus offers you a wide range of hedge trimmers. You can search for a battery operated hedge trimmer (for small gardens), an electrical (for medium-sized gardens) or a gasoline tool (for large gardens). Other options are telescopic and multitools. With the grass shear/hedge trimmer and boxwood shear we have also thought of the more compact shrubs.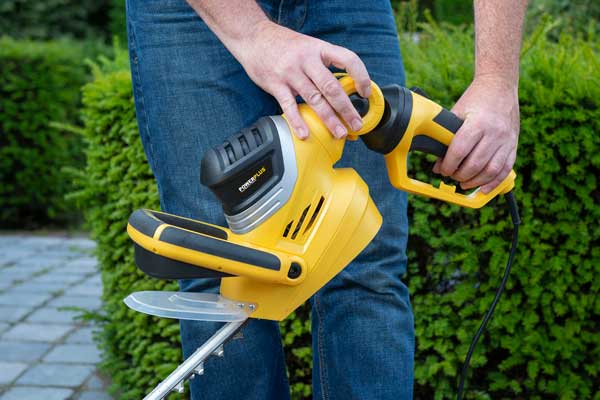 With the necessary features
When maintaining the garden in your spare time, you like to do this in the most comfortable way. The pruning tools of Powerplus have soft grips, extra handles and pivoting heads, for a sturdy and ergonomic grip. You can choose from different blade lengths and capacities. So you see progress in the clipping of larger hedges.
The safety guard, safety blade cover and quick stop assure you many years of working pleasure with your Powerplus tool. Thanks to the double action blades, you cut branches very accurately and more effectively. You can also make use of a convenient lock-on button for continuous and comfortable running. Furthermore, we have hedge trimmers with laser cut blades in our assortment: they are sharper and durable, what makes them less sensitive to damages.
Other Powerplus and Kreator tools
Don't forget to prepare yourself and think of your safety. Varo offers you the solution for this purpose too with his hand tools of Kreator. Discover also the strong power tools and the other garden and hand tools.